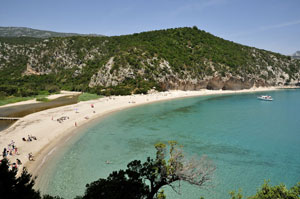 Sardinia is not a mainstream Mediterranean destination but a sophisticated Italian island, west of mainland Italy and south of Corsica. With over 1000 miles of unspoilt coastline, it is renowned for beautiful beaches, translucent azure blue sea and fascinating rock formations. Yet being the second largest Mediterranean island, it has so much more to offer with an interesting history, wild mountainous interior, vibrant towns with local traditions, colourful festivals.
The Ogliastra region is a part of the province Nuoro and it lays at the east coast of Sardinia, It is a beautiful natural theatre that opens from the mountains of "Supramonte", on the border with Barbagia, towards the central-eastern Sardinian coast.
The name comes for "Olivastro", the local wild olive three. Ogliastra is known and admired for its magnificent coastal area, all surrounded by mountains and cliffs, and for some of the most untouched coast of Italy. Its natural Mountain-Sea park includes famous spots and landmarks like the "Cale" (beach-harbours); among the most famous ones Cala Gonone, Cala Sisine, Cala Goloritze, Cala Luna... Another impressive natural landmark is the massive "Pedra Longa", a natural cliff literally planted into the sea. Situated in the centre-east of Sardinia, the region of Ogliastra includes the territories of 23 towns and villages. The most important centre is Tortolì, starting-point of three distinct itineraries which allow us to explore most of the Ogliastra territory. The first itinerary goes along the road SS 125 Orientale Sarda, passing Girasole, Lotzorai, the detour to Triei, Baunei and Urzulei. The second one starts from Tortolì and passes through Ilbono, Elini, Arzana, Villagrande and Talana, whereas the third one includes the villages of Barisardo, Cardedu, Jerzu, Ulassai, Osini, Gairo, Lanusei and Loceri. Lotzorai, with the Medusa Castle, the complex of 13 domus de janas (= fairy houses) dug into a granitic hillock, at Km. 3 on the road to Talana, and the wood of Su Padentino, composed of secular plants and trees. Passing Lotzorai, a detour will take you to Santa Maria Navarrese (a hamlet of Baunei), a most renowned seaside resort provided with a modern tourist port and a port of shipment to the inlets and the Caves of Bue Marino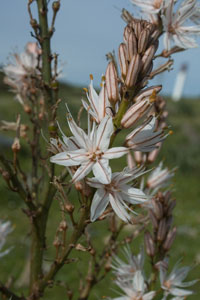 Ogliastra can be discovered in different ways: on foot, by bicycle, on horseback, by car and off-road, quad, with paragliding always accompanied by prepared and well knowledge guides. You can also go on trekking routes to discover places which are not going to be easily forgettable.
If you would like to go and visit the Gulf of Orosei, it is the ideal destination to combine activity with relaxation on beautiful beaches complete with caverns & rock arches, many only accessible by foot or from the sea. You can easily find services for hi king, boating tours, small boats, sailing boat, fishing, diving, kayaking.
In every locality there are regular wine and food festivals to raise awareness of the typical products: bread, pasta, wine, agricultural or craft: Jerzu renowned for the wine of its famous cellar, Lanusei and Osini for cherries, Ussassai for apples and the ancient traditional marriage, Urzulei for baskets and caving, Ilbono for oil and many others